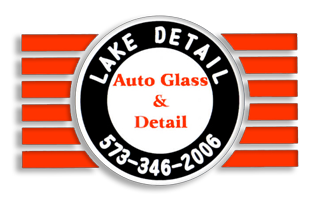 573-346-2006
Mon-Fri 8am – 5pm
269 N. Business Route 5
Camdenton, MO 65020
(Across from Sakelaris Ford)
Auto Detailing at the Lake of the Ozarks
Best Service - Best Price - Best Quality - Best Experience
Lake Detail Voted Best Auto Detail Shop at the Lake 12 Years in a Row
Full Detail
Wash & Dry

Wax Application & 6-Month Sealant

Bug & Tar Removal

Clean Tires & Rims

Tire Shine

Clean Door Jams

Clean & Polish Chrome

Shampoo Cloth Seats

Shampoo Door Panels

Clean & Dress Dashboard

Clean & Dress Vinyl Interior

Clean & Treat Leather Seats

Clean Engine

Interior Vacuum

Clean Windows & Mirrors

Shampoo Carpets

Shampoo Floor Mats
Express Wash & Wax
Wash & Dry

Wax Application & 6-Month Sealant

Clean Tires & Rims

Tire Shine

Clean Door Jams

Interior Vacuum

Clean Interior & Exterior Windows

Interior Wipe Down
Auto Wash In & Out
Wash & Dry Exterior

Bug Removal

Clean Tires & Rims

Interior Vacuum

Tire Shine

Clean Interior & Exterior Windows

Wipe Door Jams

Wipe Interior Vinyl & Dashboard
Interior Detail
Clean Door Jams

Shampoo Cloth Seats

Clean & Dress Dashboard

Clean & Dress Vinyl Interior

Clean & Treat Leather Seats

Clean Engine

Interior Vacuum

Clean Windows & Mirrors

Shampoo Carpets

Shampoo Floor Mats
Exterior Detail
Wash & Dry

Wax Application & 6-Month Sealant

Bug & Tar Removal

Clean & Dress Tires

Clean Door Jams

Clean Windows & Mirrors
Extra Services
Overspray Removal

Clay Bar Treatment

Scotch Guard Treatment

Odor Removal

Smoke Removal

Engine Steam Clean

Windshield Replacement

Pet Hair Removal (Extra)
Now featuring Ceramic Coating
Ceramic Coating has a protection element of semi-permanent ceramic coating which only requires a single coating, but provides beautiful and long lasting protection.
Using nanotechnology, the molecules interlock on the paints surface of your car, and will not wash off over time like a wax, this initiates better protection and a long lasting luster to your cars paint.
Not only does this protection reduce penetration of the heat, but it helps protect the finish of the vehicle once its treated with Ceramic Coating. Alkaline or other detergents will be repelled and cannot remove this coating.
When professionally applied to a car paint surface, the ceramic coating inhibits the penetration of heat from the surface of the paint, keeping the heat out.
One application lasts up to three years, and can be applied additionally to the chrome, windows and wheels as well.
Protect your investment with Ceramic Coating today!
Key Benefits:
Lasts longer than traditional waxing
One application lasts up to three years
Protects from extreme temperatures
Blocks harmful UV rays
Can be applied to carbon fiber panels (i.e. Audi Rx8, etc.)
Can be applied to decals and emblems